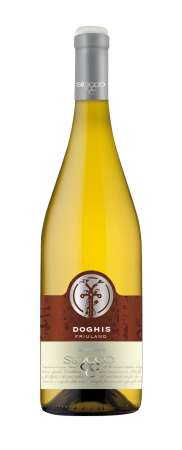 Organoleptic notes
A new star brights in Stocco's sky: Doghis, elegant and rich Friulano. Like many of our wines, even the last born has a name in the Friulian language: Doghis, or rather staves, to recall the wood of the barrels in which it rests. Obtained from the best grapes of Friulano harvested in red gravels in the heart of the company vineyard, this wine benefits from a refinement of 10 months in large oak barrels which gives it more softness and great persistence. The classic notes of Friulano, thyme, chamomile and almond blend together with spicy notes and sweet dried fruit, in an ample and elegant bouquet. Doghis represents for us a new challenge and a new way of interpreting the great autochthonous grape variety of Friuli.
Combinations
Full, tasty and persistent, Doghis perfectly pairs with first and second courses of fish such as swordfish fillet in pistachios crust or tuna tartare.
Terrain type
clayish and generally flat with gravelly substratum covered by a layer of soil
Cultivation system
double french Guyot and modified Sylvoz
Density
4500 plants per hectars
Vinification
cold maceration of destemmed grapes, light pressing, static decanting. Fermentation in large oak cask and permanence on dregs for 10 months with weekly batonage. Bottle ageing.